Medical Assisting Training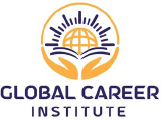 Global Career Institute (GCI) is a nonprofit organization dedicated to giving you affordable online career training programs with more flexibility for working students and those with families. We offer the solution to economical allied health careers. Our medical assistant training program is designed for students to be allied healthcare workers able to function in various healthcare settings such as physician's offices, clinics, and group practices. Students learn to perform routine tasks and procedures such as administering injections, measuring vital signs, recording data in medical record keeping systems, preparing, handling medical instruments or supplies, collecting and preparing specimens of body fluids or tissues for laboratory testing. The total cost of this program is $4200.00 and it only takes 8 months to complete. After the completion of the program, the earning potential for a Medical Assistants is up to $38,000 per year. Paying for school has never been easier! We offer in-house financing and student loan options. Our in-house financing option is paid over the 8-month course term and not subject to credit approval. Student loans are offered through Paramount Capital Group. Payments are as low as $150.00 per months based on underwriting and credit approval. What are your waiting on, start your new career TODAY!
This program is also open to families outside of DasCHE. Families who are not currently members of DasCHE will pay a Building and Use Fee as part of their registration process. Please pass this information along to other home schooling families who may be interested in participating in this exciting development.

Medical Assisting Training
This program is only available to high school seniors and above.
The MA class(es) will be on Monday mornings and will be taught by Martha Snyder who is a working Professional Nurse Practitioner with a master's degree in her field. Martha taught with DasCHE as a science teacher for more than 15 years. She taught biology, anatomy, physics, general science, marine biology and other science courses over her time as a tutor at DasCHE. She left DasCHE a few years ago to pursue opening her own medical practice providing wound care management here in the DFW area. She plans on returning to focus on teaching this program for DasCHE.
Enrollment Process
You will begin your enrollment process on the DasCHE website. Then you will be guided through the following steps:
Complete DasCHE enrollment forms and pay Building & Use Fee (non-members only)

Complete Online Student Enrollment Application with Global Career Institute

Families who are not current members of DasCHE will pay a $50 Building and Use Fee upon registration
Medical Assisting Training
If you are NOT a current member of DasCHE, please click here to complete your enrollment forms and pay your Building and Use Fee.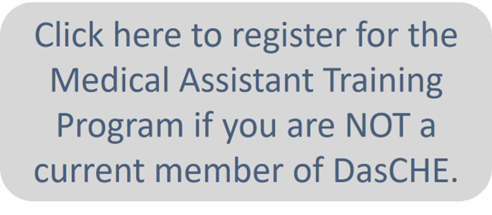 If you are already a member of DasCHE, you DO NOT need to register again. This is only for non-DasCHE families who would like to enroll in a dual credit class or in the Medical Assisting Program.
Current DasCHE Members
Click HERE